The Local SEO Cheat Sheet [Free PDF Download]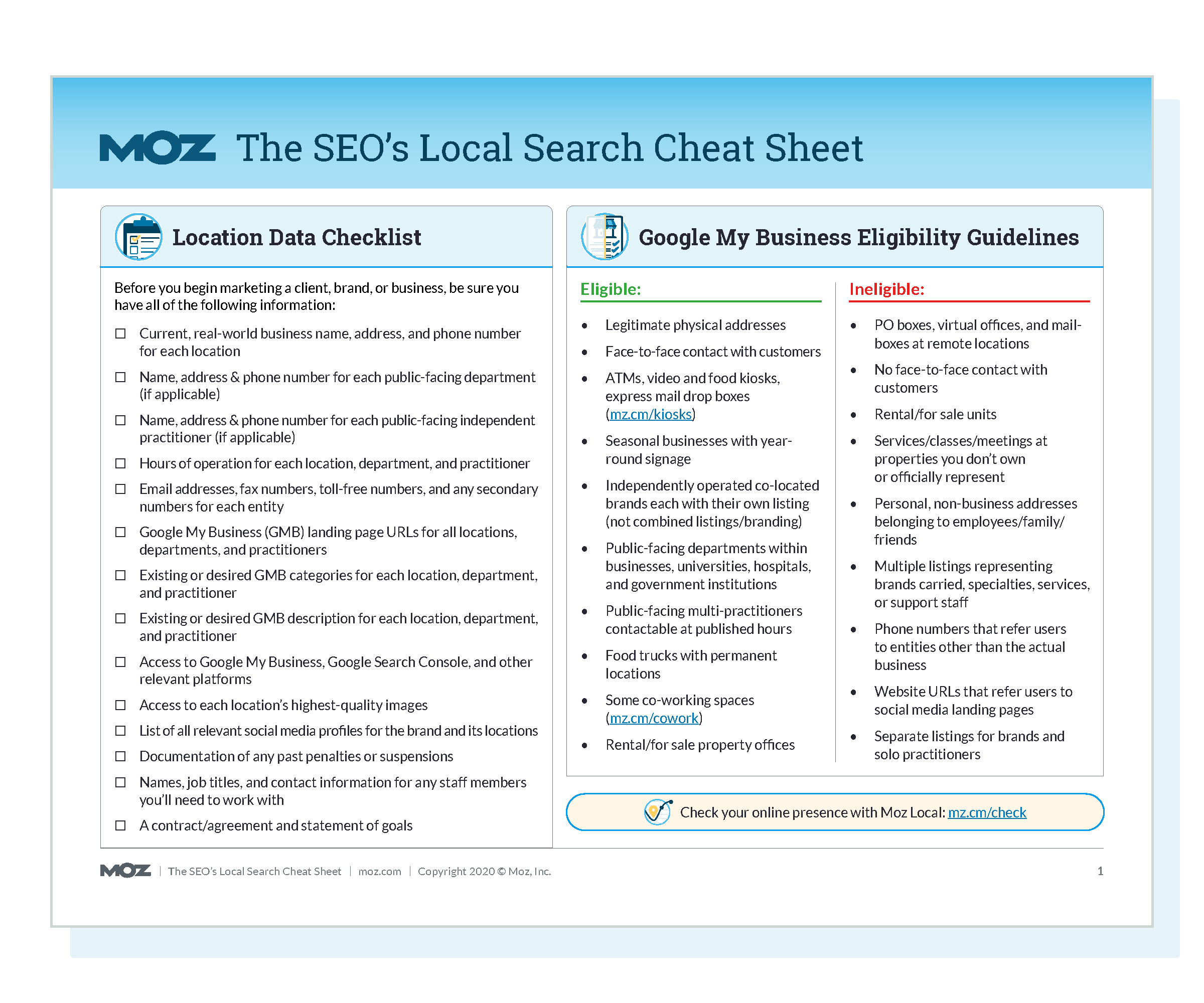 Whether you're an agency SEO representing several brands, work in-house managing multiple locations, or if you're a local business owner tasked with marketing your business, keeping on top of your local SEO tasks can be a hurdle. We created the SEO's Local Search Cheat Sheet to help you stay on track.
At a glance, you'll be able to answer questions like:
What info do you need to onboard a new client?
Is your business eligible for a Google My Business listing?
How do I find support from Google for my local search question?
What local data do I need to include on my website?
How do I manage my online reputation and reviews?
What do I do when my site fails to rank?
What are key local SEO concepts?
How can I earn linked unstructured citations?
What kind of local content should I write about?
What is hyperlocal marketing?
How can I identify my local competition?
Download and share with your colleagues, train up new hires, or print it out and tape it up for quick reference while you work — however you use it, we hope the Local SEO Cheat Sheet serves you well. Happy optimizing!
Keep learning
Supplement the Local SEO Cheat Sheet with these articles, videos, and downloads to level-up your local marketing.
COVID-19 resources:
Crisis Adaptation: Video & Checklist – Businesses all over the globe are struggling with new challenges as a direct result of the COVID-19 pandemic. With consumers turning to the internet for the majority of their needs, it's never been more vital to ensure your online presence is easily found and your business updates clearly communicated.
Operating During COVID-19: Helpful Tips for Local Businesses – In this article, get local SEO tips that could make a difference for your business in the coming weeks, innovative resources for support, advice from some of the world's best local SEOs, and ideas on building a better local future.
How Your Local Business Can Be a Helper – Local businesses and their communities are hurting right now. Learn how your business can make a difference while implementing creative new strategies to garner goodwill and lifelong customers.
Local SEO resources:
The Essential Local SEO Strategy Guide - A comprehensive beginner's guide to SEO marketing for small businesses.
The State of Local SEO Industry Report 2020 – Our brand-new industry report maps the lay of the land in 2020 — providing a snapshot of local SEO, both before and during COVID-19 — helping you understand the trends, ideas, and biggest challenges shaping your work in the new decade.
The Local Algorithm: Relevance, Proximity, and Prominence – Take three minutes and learn about the core factors driving Google's local algorithm from one of the industry's foremost experts, Mary Bowling.
2020 Local SEO Success: How to Feed, Fight, and Flip Google – Feed Google the right information, fight spam, and flip it into an opportunity: these are the top 3 ways to chase local SEO success in 2020.
Google Knowledge Panels [Ultimate Cheat Sheet] – Google's local Knowledge Panel is more detailed and more confusing than ever. Make sure your business is maximizing your GMB potential with this handy visual cheat sheet.
Google My Business: FAQ for Multiple Businesses at the Same Address – How should you get listed in Google My Business if you've got multiple businesses at the same address? How many listings are you eligible for if you're running more than one business at a location? Get answers to your top questions in this comprehensive FAQ.
Generating Local Content at Scale – Ease the pain of building local landing pages at scale with the help of natural language generation in this video by Russ Jones.
Getting Smarter with SERPs – These days, every SERP is local. And when we're basing important decisions on them, using the highest quality data is key. Russ Jones explores the problem with SERPs, data quality, and existing solutions in this Whiteboard Friday video.